Hello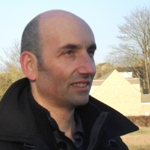 Let me tell you a little about myself. My name is Ian and I have been an English language teacher and trainer for over 20 years. I was born about 40 km from Oxford and speak standard British English with a very clear accent.
Over the years my courses have covered general English, business/professional English, exam preparation (FCE, CAE, CPE, IELTS etc), academic English, aviation English and training foreign English teachers. My qualifications include: BA Hons, Cambridge CELTA and Cambridge DELTA (a higher-level English teaching qualification). I also spent 3 years working in an HR department for the local government so I can help you prepare for job interviews.
I have taught beginners to very advanced students (C2 level) from all around the world at some of the best language schools in Oxford. I have also worked in Moscow for the European Union and lived in Japan and Austria. As well as my usual teaching work, I am the lead English teacher and materials writer on short programmes for Chinese university students held at various Oxford University colleges. 
My students come from all backgrounds – this is something I really like about being an English teacher. They have been students, academics, senior business professionals, those looking after children, refugees, and government ministers.
Many of my students need to improve their English for their profession, job opportunities and college studies. Others need better English to socialise or simply enjoy speaking English and want to maintain or improve their level.
I love being an English teacher and meeting people from all over the world. I aim to provide top-quality teaching and stimulating conversation. My students have come from:
Germany, France, Italy, Greece, China, Japan, Thailand, Somalia, Finland, Turkey, Hungary, Austria, Switzerland, Argentina, Brazil, Korea, Portugal, Spain, India, Bhutan, Israel, Norway, Sweden, Denmark, Croatia, Montenegro, Saudi Arabia, Kuwait, Egypt, Argentina, Chile, Poland, Slovakia, Czech Republic, Belgium, The Netherlands, Lithuania, Russia, Kazakhstan, Sudan, Ukraine, Nepal and others.